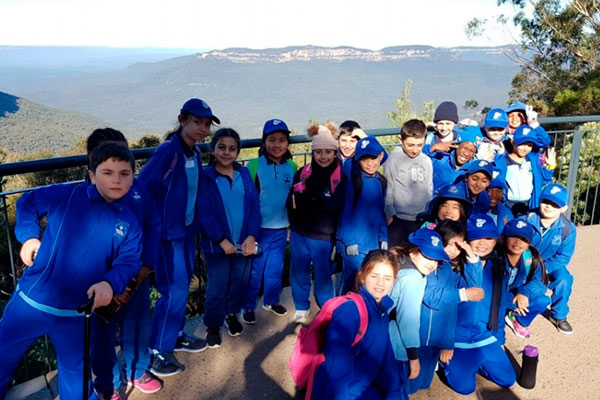 The students had their beanies, scarves and gloves and were ready for an adventure in the Blue Mountains. Students learnt about a shrub called the hairpin Banksia. The Banksia is native to the three Eastern States of Australia. The birds also love feeding off the nectar of the Banksia flower.
Students learnt about Aboriginal History, their culture, art and their knowledge of bush food and animals. The students also had their face painted with a colour made by rubbing a rock on the ground and mixing it with water, then they use the colour to paint stripes on their faces.
St Jerome's was the school's tribe name. The walk was so tiring but very interesting, students saw swamps that provided water to the creeks and the beautiful waterfalls. The waterfalls were amazing. When students reached a cliff and they would look down and others find it scary, it was 80 metres high.
The Blue Mountains is one of Australia's most visited tourist destinations. The smell of eucalyptus and tea tree oil was so fresh. The students had fun,  teachers and parents were tired but everyone kept them on their feet. The tour guide Jamie said that the students at St Jerome's is the best well behaved and one of the smartest class he has ever had the pleasure to take for the Blue Mountains excursion tour.